You are here
Back to top
21 Irrefutable Laws of Leadership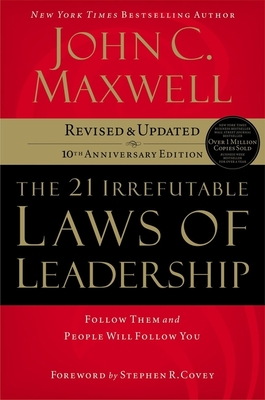 Are you looking for a great book about leadership? We're pleased to join the endorsement of a new Bookman customer who just ordered a copy The 21 Irrefutable Laws of Leadership: Follow Them and People Will Follow You. This customer is so impressed with this book that the copy just ordered will be a gift!
Stephen Northcutt has this to say
This is an excellent first or second leadership book. Don't expect to see anything truly novel in any of the laws, but the total package is a tasty dish, and I chose to read this book twice before writing this review. Maxwell uses stories from his church experience, sports, famous figures in history, and business acquaintances to bring the laws to life. If you have been studying leadership seriously for a long time, you might choose to pass on this one, but it is a fast read and well written. https://www.sans.edu/cyber-research/book-reviews/article/21-laws-bk-review
If you're looking for an excellent book for new leaders, you should take a close look at the 21 Irrefutable Laws of Leadership! Also available as an e-book! And an audio book!
The Bookman is an independent bookstore, and proud to partner with Kobo and Libro.fm to provide our customers with e-books and audio books!

$23.39
ISBN: 9780785288374
Availability: Usually Ships in 1-5 Days
Published: Thomas Nelson - September 16th, 2007
---