Thank you for shopping The Bookman's on-line store! Unfortunately, we are unable to stock every avaliable title in our Washington Avenue home.
Please give us a call at (616) 846-3520 if you want to know if a title is in-stock there.
A note on pricing
Orders placed on-line for delivery to your home or office enjoy a 10% discount.
Holiday Gift Ideas from The Bookman!
When you're shopping for your out-of-town loved ones, shop online-local with The Bookman!
Our two holiday catatlogs are available to browse and shop online from the comfort of your couch, office, or whatever comfort station you might enjoy!
The Great Lakes Independent Bookseller's Holiday Catalog is chock-full of suggested titles for all ages and interests!
The ABC Group's Best Books for Young Readers is... so many books for young readers, it would take all year to read all the books!
You are here
Back to top
A Lesson in Secrets (Paperback)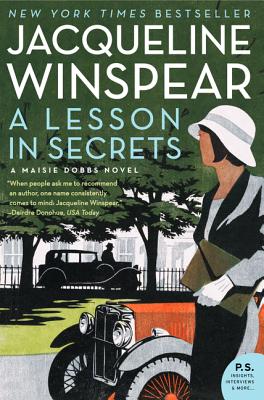 List Price: $14.99
Our Price: $13.49
(Save: $1.50 10%)
Usually Ships in 1-5 Days
Description
---
From New York Times bestselling author Jacqueline Winspear, now available in paperback-- the latest episode in the New York Times bestselling series, Maisie Dobbs' first assignment for the British Secret Service takes her undercover to Cambridge as a professor, and leads to the investigation of a web of activities being conducted by the emerging Nazi party.
Private investigator Maisie Dobbs receives her first assignment from the British Secret Service in A Lesson in Secrets, the eighth book in Jacqueline Winspear's award-winning mystery series. Sent to pose as a junior lecturer at a private college in Cambridge, she will monitor any activities "not in the interests of His Majesty's government." When the college's pacifist founder is murdered, Maisie finds herself in the midst of sinister web of murder, scandal, and conspiracy, activities that point towards members of the ascendant Nationalsozialistische Deutsche Arbeiterpartei--the Nazi Party--on Britain's shores. An instant classic, and sure to captivate long-time Maisie Dobbs fans as well as readers of Agatha Christie, Elizabeth George, and Alexander McCall Smith, A Lesson in Secrets is "a powerful and complex novel, one that will linger in memory as a testament to her talent and her humanity" (Richmond Times-Dispatch).
Praise For…
---
"Maisie is one of the great fictional heroines, equal parts haunted and haunting."
-Parade

"The combination of period detail and intricate storytelling makes A Lesson in Secrets seem distant enough to be romantic but sufficiently modern to engage our sympathies."
-Tom Nolan, Wall Street Journal

"With an affecting storyline and graceful prose, Winspear has again created a powerful and complex novel, one that will linger in memory as a testament to her talent and her humanity."
-Richmond Times-Dispatch