Thank you for shopping The Bookman's on-line store! Unfortunately, we are unable to stock every avaliable title in our Washington Avenue home.
Please give us a call at (616) 846-3520 if you want to know if a title is in-stock there.
A note on pricing
Orders placed on-line for delivery to your home or office enjoy a 10% discount.
Holiday Gift Ideas from The Bookman!
When you're shopping for your out-of-town loved ones, shop online-local with The Bookman!
Our two holiday catatlogs are available to browse and shop online from the comfort of your couch, office, or whatever comfort station you might enjoy!
The Great Lakes Independent Bookseller's Holiday Catalog is chock-full of suggested titles for all ages and interests!
The ABC Group's Best Books for Young Readers is... so many books for young readers, it would take all year to read all the books!
You are here
Back to top
Montaigne in Barn Boots: An Amateur Ambles Through Philosophy (Hardcover)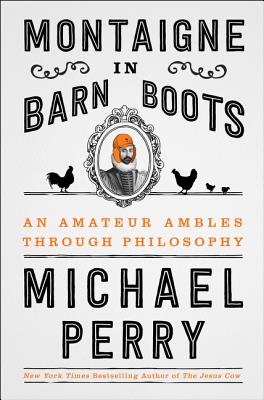 List Price: $25.99
Our Price: $23.39
(Save: $2.60 10%)
Usually Ships in 1-5 Days
November 2017 Indie Next List
---
"Michel de Montaigne may have created the essay form, but Michael Perry has perfected it. Readers will enjoy Perry's astute meditations on life as he contemplates subjects as diverse as chickens, marriage, and kidney stones. Known for his trademark Midwestern wit and wisdom, Perry will have readers laughing out loud and then commenting on how profound he is. Well done!"
— Pamela Klinger-Horn, Excelsior Bay Books, Excelsior, MN
Description
---
The beloved memoirist and bestselling author of Population: 485 reflects on the lessons he's learned from his unlikely alter ego, French Renaissance philosopher Michel de Montaigne.
"The journey began on a gurney," writes Michael Perry, describing the debilitating kidney stone that led him to discover the essays of Michel de Montaigne. Reading the philosopher in a manner he equates to chickens pecking at scraps--including those eye-blinking moments when the bird gobbles something too big to swallow--Perry attempts to learn what he can (good and bad) about himself as compared to a long-dead French nobleman who began speaking Latin at the age of two, went to college instead of kindergarten, worked for kings, and once had an audience with the Pope. Perry "matriculated as a barn-booted bumpkin who still marks a second-place finish in the sixth-grade spelling bee as an intellectual pinnacle . . . and once said hello to Merle Haggard on a golf cart."
Written in a spirit of exploration rather than declaration, Montaigne in Barn Boots is a down-to-earth (how do you pronounce that last name?) look into the ideas of a philosopher "ensconced in a castle tower overlooking his vineyard," channeled by a midwestern American writing "in a room above the garage overlooking a disused pig pen." Whether grabbing an electrified fence, fighting fires, failing to fix a truck, or feeding chickens, Perry draws on each experience to explore subjects as diverse as faith, race, sex, aromatherapy, and Prince. But he also champions academics and aesthetics, in a book that ultimately emerges as a sincere, unflinching look at the vital need to be a better person and citizen.