Thank you for shopping The Bookman's on-line store! If you find a title on our site, and wonder if we have it in-stock in our Washington Avenue home, please give us a call at (616) 846-3520. Online orders will be shipped to your home, office, or gift recipient!
You are here
Back to top
The Analects (Paperback)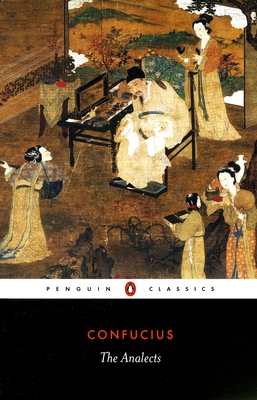 List Price: $12.00
Our Price: $10.80
(Save: $1.20 10%)
Description
---
'The Master said, "If a man sets his heart on benevolence, he will be free from evil"'

The Analects are a collection of Confucius's sayings brought together by his pupils shortly after his death in 497 BC. Together they express a philosophy, or a moral code, by which Confucius, one of the most humane thinkers of all time, believed everyone should live. Upholding the ideals of wisdom, self-knowledge, courage and love of one's fellow man, he argued that the pursuit of virtue should be every individual's supreme goal. And, while following the Way, or the truth, might not result in immediate or material gain, Confucius showed that it could nevertheless bring its own powerful and lasting spiritual rewards.

This edition contains a detailed introduction exploring the concepts of the original work, a bibliography and glossary and appendices on Confucius himself, The Analects and the disciples who compiled them.
 
For more than seventy years, Penguin has been the leading publisher of classic literature in the English-speaking world. With more than 1,700 titles, Penguin Classics represents a global bookshelf of the best works throughout history and across genres and disciplines. Readers trust the series to provide authoritative texts enhanced by introductions and notes by distinguished scholars and contemporary authors, as well as up-to-date translations by award-winning translators.
About the Author
---
Confucius (551-479 BC), though of noble descent, was born in humble circumstances. He believed that politics is only an extension of morals, and spent ten years travelling through the various states of China spreading his ideas. When he realised that there was no way of converting the feudal rulers to his way of thinking he returned to Lu and spent the rest of his life there teaching his pupils.

D.C. Lau read Chinese at the University of Hong Kong, and, in 1946, he went to Glasgow, where he read philosophy. In 1950 he entered the School of Oriental and African Studies in London to teach Chinese philosophy. After lecturing in Chinese philosophy at the University of London he returned to Hong Kong, where he is a Professor at the Chinese University.
Praise For…
---
"For more than two millennia, the teachings of Confucius have served as a guide for a substantial portion of humanity. English-language readers seeking to understand this remarkable body of thought are fortunate to have Annping Chin's highly readable and judiciously annotated edition of The Analects." —Henry A. Kissinger

"An astonishingly lucid exposition of The Analects. A kind of serene insight pervades the commentaries." —Harold Bloom

"An incomparable new volume that combines a fresh and sympathetic translation with a wonderfully readable annotation. It is a joy to use and will unlock a whole new level of meaning for English-language readers." —Orville Schell, Director of the Center on U.S.-China Relations and co-author of Wealth and Power: China's Long March to the Twenty-First Century