Thank you for shopping The Bookman's on-line store! If you find a title on our site, and wonder if we have it in-stock in our Washington Avenue home, please give us a call at (616) 846-3520. Online orders will be shipped to your home, office, or gift recipient!
You are here
Back to top
Unbowed: A Memoir (Paperback)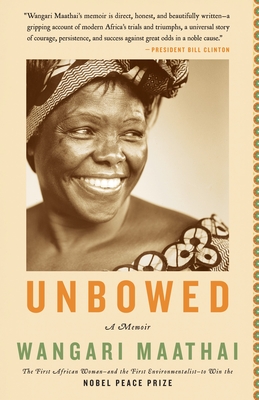 List Price: $17.00
Our Price: $15.30
(Save: $1.70 10%)
Usually Ships in 1-5 Days
Description
---
In Unbowed, Nobel Prize winner Wangari Maathai recounts her extraordinary journey from her childhood in rural Kenya to the world stage. When Maathai founded the Green Belt Movement in 1977, she began a vital poor people's environmental movement, focused on the empowerment of women, that soon spread across Africa. Persevering through run-ins with the Kenyan government and personal losses, and jailed and beaten on numerous occasions, Maathai continued to fight tirelessly to save Kenya's forests and to restore democracy to her beloved country. Infused with her unique luminosity of spirit, Wangari Maathai's remarkable story of courage, faith, and the power of persistence is destined to inspire generations to come.
About the Author
---
Wangari Muta Maathai was born in Nyeri, Kenya, in 1940. She is the founder of the Green Belt Movement, which, through networks of rural women, has planted over 30 million trees across Kenya since 1977. In 2002, she was elected to Kenya's Parliament in the first free elections in a generation, and in 2003, she was appointed Deputy Minister for the Environment and Natural Resources. The Nobel Peace Prize laureate of 2004, she has three grown children and lives and works in Nairobi.
Praise For…
---
"Wangari Maathai's memoir is direct, honest, and beautifully written—a gripping account of modern Africa's trials and triumphs, a universal story of courage, persistence, and success against great odds in a noble cause."  —President Bill Clinton
"Wangari Maathai is the rare leader who knows how to create independence, not dependence. On the page as in person, her example makes each of us a little stronger, wiser and braver than we ever thought we could be."  —Gloria Steinem

"Compelling. . . . A striking reminder that the peace award, more than any other Nobel honor, recognizes success achieved through tremendous adversity."  —The Seattle Times

"Inspirational. . . . Ms. Maathai will not be beaten down." —The Economist

"[Maathai's] story provides uplifting proof of the power of perseverance—and of the power of principled, passionate people to change their countries and inspire the world."  —The Washington Post