Thank you for shopping The Bookman's on-line store! Unfortunately, we are unable to stock every avaliable title in our Washington Avenue home.
Please give us a call at (616) 846-3520 if you want to know if a title is in-stock there.
A note on pricing
Orders placed on-line for delivery to your home or office enjoy a 10% discount.
You are here
Back to top
Super Brain: Unleashing the Explosive Power of Your Mind to Maximize Health, Happiness, and Spiritual Well-Being (Paperback)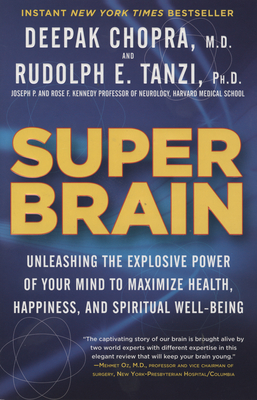 List Price: $15.99
Our Price: $14.39
(Save: $1.60 10%)
Usually Ships in 1-5 Days
Description
---
A manual for relating to the brain in a revolutionary new way, Super Brain shows you how to use your brain as a gateway for achieving health, happiness, and spiritual growth. Two pioneers, bestselling author and physician Deepak Chopra and Harvard Medical School professor Rudolph E. Tanzi, one of the world's foremost experts on the causes of Alzheimer's, have merged their wisdom and expertise for a bold new understanding of the "three-pound universe" and its untapped potential. In contrast to the "baseline brain" that fulfills the tasks of everyday life, Chopra and Tanzi propose that, through a person's increased self-awareness and conscious intention, the brain can be taught to reach far beyond its present limitations. "We are living in a golden age for brain research, but is this a golden age for your brain?" they ask. Super Brain explains how it can be, by combining cutting-edge research and spiritual insights, demolishing the five most widespread myths about the brain that limit your potential, and then showing you methods to: -Use your brain instead of letting it use you
-Create the ideal lifestyle for a healthy brain
-Reduce the risks of aging
-Promote happiness and well-being through the mind-body connection
-Access the enlightened brain, the gateway to freedom and bliss
-Overcome the most common challenges, such as memory loss, depression, anxiety, and obesity Your brain is capable of incredible healing and constant reshaping. Through a new relationship with your brain you can transform your life. In Super Brain, Chopra and Tanzi guide you on a fascinating journey that envisions a leap in human evolution. The brain is not just the greatest gift that Nature has given us. It's the gateway to an unlimited future that you can begin to live today.
About the Author
---
Deepak Chopra, MD, a member of Oprah's SuperSoul 100, is the author of more than 65 books including numerous New York Times bestsellers. His medical training is in internal medicine and endocrinology and he is a Fellow of the American College of Physicians, a member of the American Association of Clinical Endocrinologists and a Senior Scientist at the Gallup organization. Rudolph E. Tanzi, PhD, is the Joseph P. and Rose F. Kennedy Professor of Neurology at Harvard University, and Director of the Genetics and Aging Research Unit at Massachusetts General Hospital (MGH). Dr. Tanzi co-discovered the first Alzheimer's disease gene and several others, as head of the Alzheimer's Genome Project and is the co-author of the book Decoding Darkness: The Search for the Genetic Causes of Alzheimer's Disease.