Thank you for shopping The Bookman's on-line store! Unfortunately, we are unable to stock every avaliable title in our Washington Avenue home.
Please give us a call at (616) 846-3520 if you want to know if a title is in-stock there.
A note on pricing
Orders placed on-line for delivery to your home or office enjoy a 10% discount.
You are here
Back to top
Go Wild: Eat Fat, Run Free, Be Social, and Follow Evolution's Other Rules for Total Health and Well-Being (Paperback)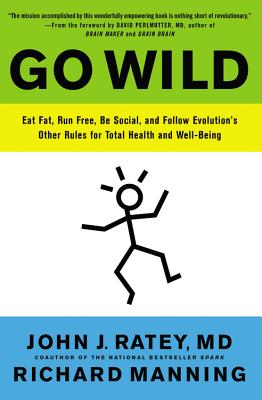 List Price: $17.00
Our Price: $15.30
(Save: $1.70 10%)
Usually Ships in 1-5 Days
Description
---
The scientific evidence behind why maintaining a lifestyle more like that of our ancestors will restore our health and well-being. In GO WILD, Harvard Medical School Professor John Ratey, MD, and journalist Richard Manning reveal that although civilization has rapidly evolved, our bodies have not kept pace. This mismatch affects every area of our lives, from our general physical health to our emotional wellbeing. Investigating the power of living according to our genes in the areas of diet, exercise, sleep, nature, mindfulness and more, GO WILD examines how tapping into our core DNA combats modern disease and psychological afflictions, from Autism and Depression to Diabetes and Heart Disease. By focusing on the ways of the past, it is possible to secure a healthier and happier future, and GO WILD will show you how.
About the Author
---
John Ratey, M.D. is a clinical professor of psychiatry at Harvard Medical School. He is the author of numerous bestselling and groundbreaking books, including Spark, Driven to Distraction, and A User's Guide to the Brain. He lives in Cambridge, Massachusetts. Richard Manning is an award-winning journalist. He is the author of eight books, including One Round River. His work has appeared in Best American Science and Nature Writing 2010, Harper's, the New York Times, the Los Angeles Times, and other publications.