Thank you for shopping The Bookman's on-line store! Unfortunately, we are unable to stock every avaliable title in our Washington Avenue home.
Please give us a call at (616) 846-3520 if you want to know if a title is in-stock there.
A note on pricing
Orders placed on-line for delivery to your home or office enjoy a 10% discount.
You are here
Back to top
Hardwiring Happiness: The New Brain Science of Contentment, Calm, and Confidence (Paperback)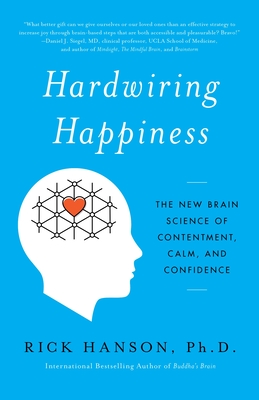 List Price: $16.00
Our Price: $14.40
(Save: $1.60 10%)
Usually Ships in 1-5 Days
Description
---
Why is it easier to ruminate over hurt feelings than it is to bask in the warmth of being appreciated? Because your brain evolved to learn quickly from bad experiences, but slowly from good ones. You can change this. Life isn't easy, and having a brain wired to take in the bad and ignore the good makes us worried, irritated, and stressed, instead of confident, secure, and happy. But each day is filled with opportunities to build inner strengths and Dr. Rick Hanson, an acclaimed clinical psychologist, shows what you can do to override the brain's default pessimism. Hardwiring Happiness lays out a simple method that uses the hidden power of everyday experiences to build new neural structures full of happiness, love, confidence, and peace. You'll learn to see through the lies your brain tells you. Dr. Hanson's four steps build strengths into your brain--counterbalancing its ancient negativity bias--making contentment and a powerful sense of resilience the new normal. In mere minutes each day, you can transform your brain into a refuge and power center of calm and happiness. You can hardwire in happiness.
About the Author
---
Rick Hanson, Ph.D., is a psychologist, a Senior Fellow of the Greater Good Science Center at UC Berkeley, and a New York Times best-selling author. His books include Hardwiring Happiness, Buddha's Brain, Just One Thing, and Mother Nurture, and are available in 26 languages. He edits the Wise Brain Bulletin and has numerous audio programs. A summa cum laude graduate of UCLA and founder of the Wellspring Institute for Neuroscience and Contemplative Wisdom, he's been an invited speaker at NASA, Oxford, Stanford, Harvard, and other major universities, and taught in meditation centers worldwide. His work has been featured on the BBC, CBS, and NPR, and he offers the free Just One Thing newsletter with over 100,000 subscribers, plus the online Foundations of Well-Being program in positive neuroplasticity that anyone with financial need can do for free. From the Hardcover edition.