Thank you for shopping The Bookman's on-line store! Unfortunately, we are unable to stock every avaliable title in our Washington Avenue home.
Please give us a call at (616) 846-3520 if you want to know if a title is in-stock there.
A note on pricing
Orders placed on-line for delivery to your home or office enjoy a 10% discount.
Holiday Gift Ideas from The Bookman!
When you're shopping for your out-of-town loved ones, shop online-local with The Bookman!
Our two holiday catatlogs are available to browse and shop online from the comfort of your couch, office, or whatever comfort station you might enjoy!
The Great Lakes Independent Bookseller's Holiday Catalog is chock-full of suggested titles for all ages and interests!
The ABC Group's Best Books for Young Readers is... so many books for young readers, it would take all year to read all the books!
You are here
Back to top
The Second Life of Nick Mason (Paperback)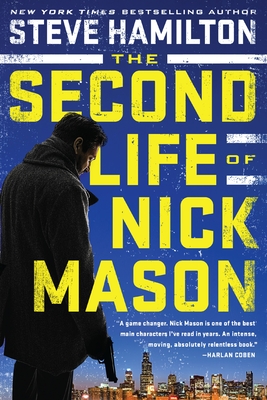 List Price: $16.00
Our Price: $14.40
(Save: $1.60 10%)
Usually Ships in 1-5 Days
Description
---
An NPR and Kirkus Reviews Best Book of the Year
A Library Journal Best Thriller of the Year "A gamechanger. Nick Mason is one of the best main characters I've read in years."--Harlan Coben From New York Times-bestselling, two-time Edgar-award-winning author Steve Hamilton comes an unforgettable new hero, a man who will walk out of prison and into a harrowing double life that is anything but free. Nick Mason has already spent five years inside a maximum security prison when an offer comes that will grant his release twenty years early. He accepts--but the deal comes with a terrible price. Now, back on the streets, Nick Mason has a new house, a new car, money to burn, and a beautiful roommate. He's returned to society, but he's still a prisoner. Whenever his cell phone rings, day or night, Nick must answer it and follow whatever order he is given. It's the deal he made with Darius Cole, a criminal mastermind serving a double-life term who runs an empire from his prison cell. Forced to commit increasingly more dangerous crimes, hunted by the relentless detective who put him behind bars, and desperate to go straight and rebuild his life with his daughter and ex-wife, Nick will ultimately have to risk everything--his family, his sanity, and even his life--to finally break free.
About the Author
---
Steve Hamilton is the New York Times-bestselling author of twelve novels, most recently Die a Stranger and Let It Burn. His debut, A Cold Day in Paradise, won both an Edgar and a Shamus Award for Best First Novel. His standalone novel The Lock Artist was a New York Times Notable Crime Book and won an Alex Award and the Edgar Award for Best Novel. He attended the University of Michigan, where he won the prestigious Hopwood Award for writing, and now lives in Cottekill, NY, with his wife and their two children. From the Hardcover edition.