Thank you for shopping The Bookman's on-line store! Unfortunately, we are unable to stock every avaliable title in our Washington Avenue home.
Please give us a call at (616) 846-3520 if you want to know if a title is in-stock there.
A note on pricing
Orders placed on-line for delivery to your home or office enjoy a 10% discount.
You are here
Back to top
The Emotional Life of Your Brain: How Its Unique Patterns Affect the Way You Think, Feel, and Live-And How You Can Change Them (Paperback)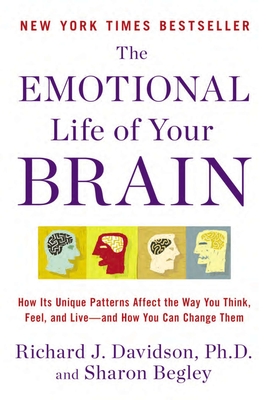 List Price: $16.00
Our Price: $14.40
(Save: $1.60 10%)
Usually Ships in 1-5 Days
Description
---
What is your emotional fingerprint? Why are some people so quick to recover from setbacks? Why are some so attuned to others that they seem psychic? Why are some people always up and others always down? In his thirty-year quest to answer these questions, pioneering neuroscientist Richard J. Davidson discovered that each of us has an Emotional Style, composed of Resilience, Outlook, Social Intuition, Self-Awareness, Sensitivity to Context, and Attention. Where we fall on these six continuums determines our own "emotional fingerprint." Sharing Dr. Davidson's fascinating case histories and experiments, The Emotional Life of Your Brain offers a new model for treating conditions like autism and depression as it empowers us all to better understand ourselves--and live more meaningful lives.
About the Author
---
Richard J. Davidson is a professor and director of the W. M. Keck Laboratory for Functional Brain Imaging and Behavior and the Laboratory for Affective Neuroscience at the University of Wisconsin-Madison. He lives in Madison, Wisconsin. Sharon Begley is the senior health and science correspondent at Reuters. She is the bestselling author of Train Your Mind, Change Your Brain.
Praise For…
---
 "Whether he is measuring neural activity in the laboratory or climbing the Himalayas to meet the Dalai Lama, Davidson is an inveterate explorer who has spent a lifetime probing the deep mystery of human feeling. Don't miss this smart and lively book by the world's foremost expert on emotion and the brain." -Daniel Gilbert, Ph.D., author of Stumbling on Happiness

"The Emotional Life of Your Brain is an eye-opener, replete with breakthrough research that will change the way you see yourself and everyone you know.  Richard Davidson and Sharon Begley make a star team: cutting-edge findings formulated in a delightful, can't-put-it-down read.  I loved this book." -Daniel Goleman, Ph.D., author of Emotional Intelligence

 "What a gift from the world's leading neuroscientist who works on what makes life worth living. This is a must-read for everyone who is interested in positive psychology." -Martin E. P. Seligman, Ph.D., author of Learned Optimism
-Martin E. P. Seligman, Ph.D., author of Learned Optimism