Thank you for shopping The Bookman's on-line store! Unfortunately, we are unable to stock every avaliable title in our Washington Avenue home.
Please give us a call at (616) 846-3520 if you want to know if a title is in-stock there.
A note on pricing
Orders placed on-line for delivery to your home or office enjoy a 10% discount.
You are here
Back to top
Tattoos on the Heart: The Power of Boundless Compassion (Paperback)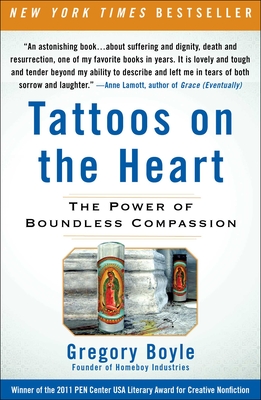 List Price: $16.00
Our Price: $14.40
(Save: $1.60 10%)
Usually Ships in 1-5 Days
Description
---
"Destined to become a classic of both urban reportage and contemporary spirituality" (Los Angeles Times)--Tattoos on the Heart is a series of parables about kinship and redemption from pastor, activist, and renowned speaker, Father Gregory Boyle. For twenty years, Father Gregory Boyle has run Homeboy Industries, a gang-intervention program located in the Boyle Heights neighborhood of Los Angeles--also known as the gang capital of the world. In Tattoos on the Heart, he has distilled his experience working in the ghetto into a breathtaking series of parables inspired by faith. From giant, tattooed Cesar, shopping at JC Penney fresh out of prison, you learn how to feel worthy of God's love. From ten-year-old Pipi you learn the importance of being known and acknowledged. From Lulu you come to understand the kind of patience necessary to rescue someone from the dark--as Father Boyle phrases it, we can only shine a flashlight on a light switch in a darkened room. This is a motivating look at how to stay faithful in spite of failure, how to meet the world with a loving heart, and how to conquer shame with boundless, restorative love.