Thank you for shopping The Bookman's on-line store! Unfortunately, we are unable to stock every avaliable title in our Washington Avenue home.
Please give us a call at (616) 846-3520 if you want to know if a title is in-stock there.
A note on pricing
Orders placed on-line for delivery to your home or office enjoy a 10% discount.
Holiday Gift Ideas from The Bookman!
When you're shopping for your out-of-town loved ones, shop online-local with The Bookman!
Our two holiday catatlogs are available to browse and shop online from the comfort of your couch, office, or whatever comfort station you might enjoy!
The Great Lakes Independent Bookseller's Holiday Catalog is chock-full of suggested titles for all ages and interests!
The ABC Group's Best Books for Young Readers is... so many books for young readers, it would take all year to read all the books!
You are here
Back to top
Ocdaniel (Paperback)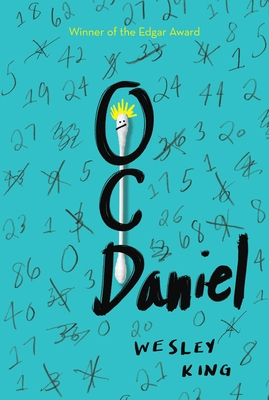 List Price: $8.99
Our Price: $8.09
(Save: $0.90 10%)
Usually Ships in 1-5 Days
Description
---
EDGAR AWARD WINNER FOR BEST MYSTERY
BANK STREET BEST BOOK OF THE YEAR
SILVER BIRCH AWARD WINNER "Complex and satisfying. Written from Daniel's point of view, this perceptive first-person narrative is sometimes painful, sometimes amusing, and always rewarding." --Booklist (starred review) From the author of Incredible Space Raiders from Space comes a brand-new coming-of-age story about a boy whose life revolves around hiding his obsessive compulsive disorder--until he gets a mysterious note that changes everything. Daniel is the back-up punter for the Erie Hills Elephants. Which really means he's the water boy. He spends football practice perfectly arranging water cups--and hoping no one notices. Actually, he spends most of his time hoping no one notices his strange habits--he calls them Zaps: avoiding writing the number four, for example, or flipping a light switch on and off dozens of times over. He hopes no one notices that he's crazy, especially his best friend Max, and Raya, the prettiest girl in school. His life gets weirder when another girl at school, who is unkindly nicknamed Psycho Sara, notices him for the first time. She doesn't just notice him: she seems to peer through him. Then Daniel gets a note: "I need your help," it says, signed, Fellow Star Child--whatever that means. And suddenly Daniel, a total no one at school, is swept up in a mystery that might change everything for him. With great voice and grand adventure, this book is about feeling different and finding those who understand.