Thank you for shopping The Bookman's on-line store! If you find a title on our site, and wonder if we have it in-stock in our Washington Avenue home, please give us a call at (616) 846-3520. Online orders will be shipped to your home, office, or gift recipient!
You are here
Back to top
This I Know (Hardcover)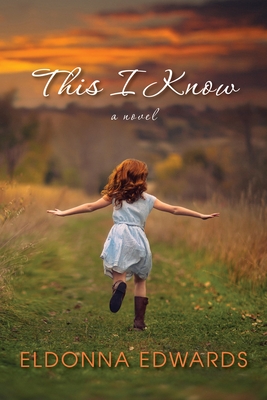 List Price: $26.00
Our Price: $23.40
(Save: $2.60 10%)
Description
---
Set in a small Midwest town in the late 1960s and helmed by an unforgettable young protagonist—compassionate, uncannily wise Grace—This I Know is a luminous coming-of-age story from an astonishing new voice.
 
Eleven-year-old Grace Carter has a talent for hiding things. She's had plenty of practice, burying thoughts and feelings that might anger her strict Evangelical pastor father, and concealing the deep intuition she carries inside. The Knowing, as Grace calls it, offers glimpses of people's pasts and futures. It enables her to see into the depth of her mother's sadness, and even allows Grace to talk to Isaac, her twin brother who died at birth. To her wise, loving Aunt Pearl, the Knowing is a family gift; to her daddy, it's close to witchcraft. 
 
Grace can't see into someone's thoughts without their permission. But it doesn't take her special talent to know that her small community is harboring its share of secrets. A young girl has gone missing. Within Grace's own family too, the cracks are widening, as her sisters Hope, Joy, and Chastity enjoy the normal life that eludes Grace. It's Grace's kinship with other outsiders that keeps her afloat—Lyle, a gentle, homeless man, and Lola, a free-spirited new girl at school. But when her mother lapses into deep depression after bringing home a new baby, Grace will face a life-changing choice—ignore her gift and become the obedient daughter her father demands, or find the courage to make herself heard, even if it means standing apart . . .
About the Author
---
Eldonna Edwards grew up in a large family nestled between cornfields and churches in the provincial Midwest. She eventually escaped the harsh winters, moving to California where she expanded her career from journaling facilitator to author to beloved writing instructor to keynote speaker. Her bestselling debut novel, This I Know, won over the hearts and minds of readers everywhere and was a Delilah Book Club selection. In her second novel Clover Blue (May 2019) Eldonna once again explores themes of otherness and belonging, and the true definition of home. She is also the subject of the award-winning documentary Perfect Strangers that follows one kidney patient and one potential kidney donor in their search for a possible match. Her 2014 memoir Lost in Transplantation chronicles this life-changing decision. Eldonna currently lives and writes in a tiny pink house with her best friend, Brer.
Praise For…
---
"In a pitch-perfect voice, Edwards captures Grace's struggles to understand the pain of those around her as she deals with her own, especially her desire to be loved unconditionally by her father. Grace displays a wellspring of compassion—for the homeless man who sometimes squats in her family's barn, for families who have lost loved ones and especially for her mama, whom she desperately wants back from the grips of depression.  Like Grace, Edwards is the daughter of a preacher, and this write-what-you-know aspect lends This I Know a depth of feeling and honesty. Edwards' conversational style and the first-person diaristic tone create an enveloping warmth that draws the reader in."
—Bookpage
 
"If you're looking for good, old-fashioned storytelling, one that will pull you in from the beginning and never let go, this is the book for you."
—Historical Novels Society

"In this outstanding debut, Eldonna Edwards has created an enchanting, loveable narrator by the name of Grace Carter, who shares all she sees about her world and beyond.  Rendered in a voice at once singular and exquisite and with an old soul sense of wisdom, I was captivated by this story of a girl and her unique gift, her love of family, the pain of loss, the sting of indifference, and the simple joy of acceptance, but most of all by Grace, and her purity of heart."
—Donna Everhart, author of The Education of Dixie Dupree
 
"A heartfelt and beautifully crafted coming-of-age debut about a gifted, eleven-year-old girl attempting to find her place in a confusing world. This I Know shines, due in large part to narrator Grace, one of the most authentic and charming young characters I've come across in a long time. Don't miss this one."
—Lesley Kagen, New York Times bestselling author of The Mutual Admiration Society
 
"Simply magical writing.  Eldonna Edwards is a true storyteller. She tossed me straight into her book and there I stayed until the last word on the last page."
—Cathy Lamb, author of No Place I'd Rather Be
 
"Eldonna Edwards has crafted a compelling allegorical tale about the fear of otherness in this
coming-of-age tale. Readers of all ages will find an unlikely hero in 11-year-old Grace Marie Carter—who was born with a type of clairvoyance she calls the "Knowing"—as she bravely forges her own path in a world that is constantly trying to silence her voice."
—Amy Impellizzeri, author of The Truth About Thea

"A remarkable, inspiring story about clairvoyance, faith, and opening your heart—and mind—to the truth. I will not soon forget Grace Carter, the young preacher's daughter with a unique interpretation of the world. Her kindness, her resilience, and her gloriously quirky voice have me shouting to readers everywhere, 'I love this book!'"
—Barbara Claypole White, bestselling author of The Perfect Son