Thank you for shopping The Bookman's on-line store! Unfortunately, we are unable to stock every avaliable title in our Washington Avenue home.
Please give us a call at (616) 846-3520 if you want to know if a title is in-stock there.
A note on pricing
Orders placed on-line for delivery to your home or office enjoy a 10% discount.
You are here
Back to top
The Punch Escrow (Paperback)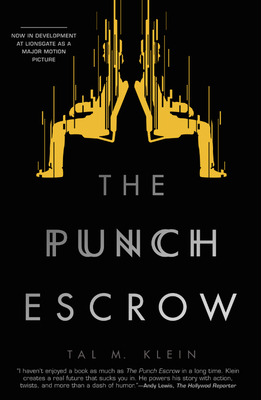 List Price: $14.99
Our Price: $13.49
(Save: $1.50 10%)
Usually Ships in 1-5 Days
Description
---
Dubbed the "next Ready Player One," by former Warner Brothers President Greg Silverman, and now in film development at Lionsgate. "Featuring themes similar to Blake Crouch's Dark Matter, the dense sci-fi feel of a Michael Crichton thriller and clever Douglas Adams-like charm, the book posits an intriguing future that is both inviting and horrific." --Brian Truitt, USA TODAY It's the year 2147. Advancements in nanotechnology have enabled us to control aging. We've genetically engineered mosquitoes to feast on carbon fumes instead of blood, ending air pollution. And teleportation has become the ideal mode of transportation, offered exclusively by International Transport--the world's most powerful corporation, in a world controlled by corporations. Joel Byram spends his days training artificial-intelligence engines to act more human and trying to salvage his deteriorating marriage. He's pretty much an everyday twenty-second century guy with everyday problems--until he's accidentally duplicated while teleporting. Now Joel must outsmart the shadowy organization that controls teleportation, outrun the religious sect out to destroy it, and find a way to get back to the woman he loves in a world that now has two of him.