Thank you for shopping The Bookman's on-line store! If you find a title on our site, and wonder if we have it in-stock in our Washington Avenue home, please give us a call at (616) 846-3520. Online orders will be shipped to your home, office, or gift recipient!
You are here
Back to top
Surviving Genocide: Native Nations and the United States from the American Revolution to Bleeding Kansas (Hardcover)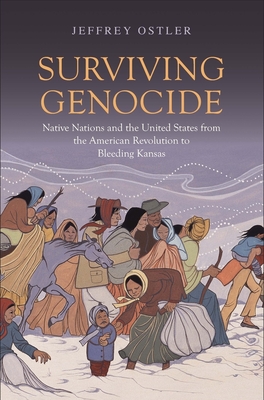 List Price: $37.50
Our Price: $33.75
(Save: $3.75 10%)
Usually Ships in 1-5 Days
Description
---
The first part of a sweeping two-volume history of the devastation brought to bear on Indian nations by U.S. expansion

In this book, the first part of a sweeping two-volume history, Jeffrey Ostler investigates how American democracy relied on Indian dispossession and the federally sanctioned use of force to remove or slaughter Indians in the way of U.S. expansion. He charts the losses that Indians suffered from relentless violence and upheaval and the attendant effects of disease, deprivation, and exposure. This volume centers on the eastern United States from the 1750s to the start of the Civil War.
 
An authoritative contribution to the history of the United States' violent path toward building a continental empire, this ambitious and well-researched book deepens our understanding of the seizure of Indigenous lands, including the use of treaties to create the appearance of Native consent to dispossession. Ostler also documents the resilience of Native people, showing how they survived genocide by creating alliances, defending their towns, and rebuilding their communities.
 
About the Author
---
Jeffrey Ostler is Beekman Professor of Northwest and Pacific History at the University of Oregon and the author of The Lakotas and the Black Hills and The Plains Sioux and U.S. Colonialism from Lewis and Clark to Wounded Knee
Praise For…
---
"Engagingly written and thoroughly researched . . . a triumph of historical synthesis and incisive scholarly analysis"—Gregory D. Smithers, H-AmIndian
"A groundbreaking tour de force that will appeal to anyone interested in American history or Native American studies."—John R. Burch, Library Journal, starred review
"An excellent first installment of what will be a two-part history."—Rebecca Onion, Slate 
Selected for Choice's 2019 Outstanding Academic Titles List
 
"Jeffrey Ostler's Surviving Genocide covers a full century and a huge swath of territory but is never less than comprehensive. This is benchmark history at its best."—John Mack Faragher, Yale University
"Surviving Genocide provides a panoramic survey of American-Indian relations and takes a hard look at U.S. policies that were predicated, one way or another, on the removal of Native people; at the same time, it offers important testimony on the resilience of Native people who refused to disappear."—Colin G. Calloway, author of The Indian World of George Washington
"Stunning in its depth of research and scope of learning, Surviving Genocide brings a new level of sophistication to the study of the United States'  'Indian wars,' revealing the genocidal impulse at the core of the conflicts as well as the Native ingenuity that prevented an even more profound loss of life and land."—Karl Jacoby, author of Shadows at Dawn: A Borderlands Massacre and the Violence of History
"A landmark book essential to understanding American history, Surviving Genocide is an act of courage. Ostler's brilliant concept of reconstructing 'an Indigenous consciousness of genocide' is significant for its insight into how American Indians understood, discussed, and resisted genocidal threats to their families, communities, and nations. His modern vocabulary of 'atrocities' and 'killing fields' is not for political effect but appropriate to the brutal reality of Indian policy in American history."—Brenda Child, Northrop Professor of American Studies, University of Minnesota
"Jeffrey Ostler's Surviving Genocide covers a full century and a huge swath of territory but is never less than comprehensive. This is benchmark history at its best."—John Mack Faragher, Yale University
— John Mack Faragher
"Stunning in its depth of research and scope of learning, Surviving Genocide brings a new level of sophistication to the study of the United States'  'Indian wars,' revealing the genocidal impulse at the core of the conflicts as well as the Native ingenuity that prevented an even more profound loss of life and land."—Karl Jacoby, author of Shadows at Dawn: A Borderlands Massacre and the Violence of History
— Karl Jacoby