Thank you for shopping The Bookman's on-line store! If you find a title on our site, and wonder if we have it in-stock in our Washington Avenue home, please give us a call at (616) 846-3520. Online orders will be shipped to your home, office, or gift recipient!
You are here
Back to top
The Stranger in the Woods: The Extraordinary Story of the Last True Hermit (Paperback)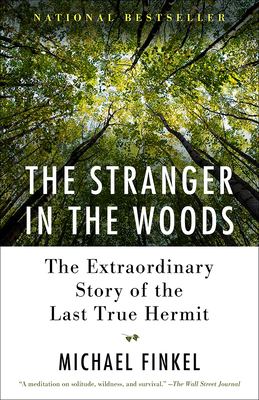 List Price: $16.00
Our Price: $14.40
(Save: $1.60 10%)
Usually Ships in 1-5 Days
March 2017 Indie Next List
---
"This is the fascinating true story of Christopher Knight, who lived in the Maine woods for 27 years and survived by stealing supplies from vacation cabins while living in extreme conditions to avoid detection. After more than 1,000 burglaries, he was finally caught and partially reintegrated into society. His story is told together with the history of hermits and those who have sought solitude in order to have insight. Chris defies psychological profiling, and it's amazing Finkel was even able to interview him to write this book. This level of solitude would drive most people insane, but for Chris, it seems like an almost pure contemplative state. An excellent read."
— Todd Miller, Arcadia Books, Spring Green, WI
Summer 2018 Reading Group Indie Next List
---
"At 20 years old, Chris Knight drove into the Maine woods as far as his gas tank would take him, got out, threw his keys on the center console, walked into the forest, and lived in solitude for the next 27 years. While the story is largely the reader's voyeuristic look at how he survived, this book is really an interesting commentary on introversion at its most extreme and its effects on an individual, a family, and society. It's a fascinating read with references from history, philosophy, and psychology that don't bog down the intensity of the story, which reads like a novel."
— Jessica Perez , University Book Store (Mill Creek), Mill Creek, WA
Description
---
A National Geographic Best Book of the Year 

National Bestseller

Many people dream of escaping modern life. Most will never act on it—but in 1986, twenty-year-old Christopher Knight did just that when he left his home in Massachusetts, drove to Maine, and disappeared into the woods. He would not have a conversation with another person for the next twenty-seven years.
 
Drawing on extensive interviews with Knight himself, journalist Michael Finkel shows how Knight lived in a tent in a secluded encampment, developing ingenious ways to store provisions and stave off frostbite during the winters. A former alarm technician, he stealthily broke into nearby cottages for food, books, and supplies, taking only what he needed but sowing unease in a community plagued by his mysterious burglaries. Since returning to the world, he has faced unique challenges—and compelled us to reexamine our assumptions about what makes a good life. By turns riveting and thought-provoking, The Stranger in the Woods gives us a deeply moving portrait of a man determined to live his own way.
About the Author
---
Michael Finkel is the author of True Story: Murder, Memoir, Mea Culpa, which was adapted into a 2015 major motion picture. He has written for National Geographic, GQ, Rolling Stone, Esquire, Vanity Fair, The Atlantic, and The New York Times Magazine. He lives in western Montana.
Praise For…
---
"A meditation on solitude, wildness and survival." —The Wall Street Journal

"Astonishing. . . . An absorbing exploration of solitude and man's eroding relationship with the natural world." —The Atlantic 

"Campfire-friendly and thermos-ready, easily drained in one warm, rummy slug. It also raises a variety of profound questions—about the role of solitude, about the value of suffering, about the diversity of human needs." —The New York Times

"[A] fascinating story. . . . Finkel manages to pry powerful words from the man who may hold the world title for silent retreat." —San Francisco Chronicle

"Reveals, in vivid detail, how Christopher Knight escaped society more completely than most anybody else in human history." —Outside

"[An] intriguing account of Knight's capture and confessions." —USA Today

"A story that takes the two primary human relationships—to nature and to one another—and deftly upends our assumptions about both. This was a breathtaking book to read and many weeks later I am still thinking about the implications for our society and—by extension—for my own life." —Sebastian Junger, author of Tribe: On Homecoming and Belonging

"As strong as Finkel's storytelling instincts and prose are, his greatest feat in writing The Stranger in the Woods is the journalistic diligence and humanity he brought to Knight. . . . Through Finkel, Knight is able to speak up with his own voice at last." —Paste

"[Knight's] story will speak to anyone who has ever walked through the wilderness and considered, even for a moment, whether ever to leave." —Field & Stream

"Moving and haunting. . . . A beautifully rendered, carefully researched story." —PopMatters

 "Riveting. . . . A stunning look inside at the life and inner thoughts of one of our era's most confounding characters." —Bangor Daily News

"Thought-provoking and enduring . . . Will leave readers thinking deeply about modern society, the search for meaning, and the impact of solitude. Finkel is a skilled storyteller." —Portland Press Herald (Maine)

"I was drawn through these pages in a single sitting—their pull is true and magnetic. . . . [Knight's] tale becomes universal thanks to the expert care of Finkel's writing. . . The Stranger in the Woods is, ultimately, a meditation on the pains of social obligation and the longing toward retreat that resides in us all." —Michael Harris, The Globe and Mail (Toronto)

"Michael Finkel has done something magical with this profound book . . . [His] investigation runs deep, summoning . . . the human history of our own attempts to find meaning in a noisy world." —Michael Paterniti, author of Driving Mr. Albert: A Trip Across America with Einstein's Brain

"Chris Knight is an American original . . . I burned through this haunting tale in one rapt sitting." —John Vaillant, author of The Golden Spruce: A True Story of Myth, Madness, and Greed