Thank you for shopping The Bookman's on-line store! Unfortunately, we are unable to stock every avaliable title in our Washington Avenue home.
Please give us a call at (616) 846-3520 if you want to know if a title is in-stock there.
A note on pricing
Orders placed on-line for delivery to your home or office enjoy a 10% discount.
Holiday Gift Ideas from The Bookman!
When you're shopping for your out-of-town loved ones, shop online-local with The Bookman!
Our two holiday catatlogs are available to browse and shop online from the comfort of your couch, office, or whatever comfort station you might enjoy!
The Great Lakes Independent Bookseller's Holiday Catalog is chock-full of suggested titles for all ages and interests!
The ABC Group's Best Books for Young Readers is... so many books for young readers, it would take all year to read all the books!
You are here
Back to top
Tattoos on the Heart: The Power of Boundless Compassion (Paperback)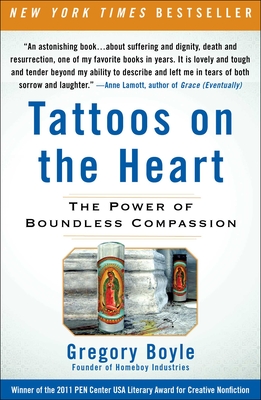 List Price: $16.00
Our Price: $14.40
(Save: $1.60 10%)
Usually Ships in 1-5 Days
Description
---
"Destined to become a classic of both urban reportage and contemporary spirituality" (Los Angeles Times)--Tattoos on the Heart is a series of parables about kinship and redemption from pastor, activist, and renowned speaker, Father Gregory Boyle. For twenty years, Father Gregory Boyle has run Homeboy Industries, a gang-intervention program located in the Boyle Heights neighborhood of Los Angeles--also known as the gang capital of the world. In Tattoos on the Heart, he has distilled his experience working in the ghetto into a breathtaking series of parables inspired by faith. From giant, tattooed Cesar, shopping at JC Penney fresh out of prison, you learn how to feel worthy of God's love. From ten-year-old Pipi you learn the importance of being known and acknowledged. From Lulu you come to understand the kind of patience necessary to rescue someone from the dark--as Father Boyle phrases it, we can only shine a flashlight on a light switch in a darkened room. This is a motivating look at how to stay faithful in spite of failure, how to meet the world with a loving heart, and how to conquer shame with boundless, restorative love.